If you are heading to Iceland make sure to visit the natural beauty of Glymur waterfall, the second tallest waterfall in Iceland, located in the Hvalfjordur fjord, not far from Reykjavik. Measured at 650 feet (198 meters) tall, it was once the tallest waterfall in Iceland for centuries, until the newly discovered Morsarfoss took the crown in 2011.
Glymur waterfall is located in a narrow canyon as it falls into Botnsá river, making it hard to see the whole waterfall from one angle. It features several little falls of different sizes cascading down a mountain face. To reach the waterfall, a two-hour hike through beautiful scenery is required, including river crossings and a cave, making it an excellent trip for photography lovers. You can also try a 10-hour Jeep Tour of Hvalfjordur, which takes you to the waterfall and explores the beautiful surrounding area.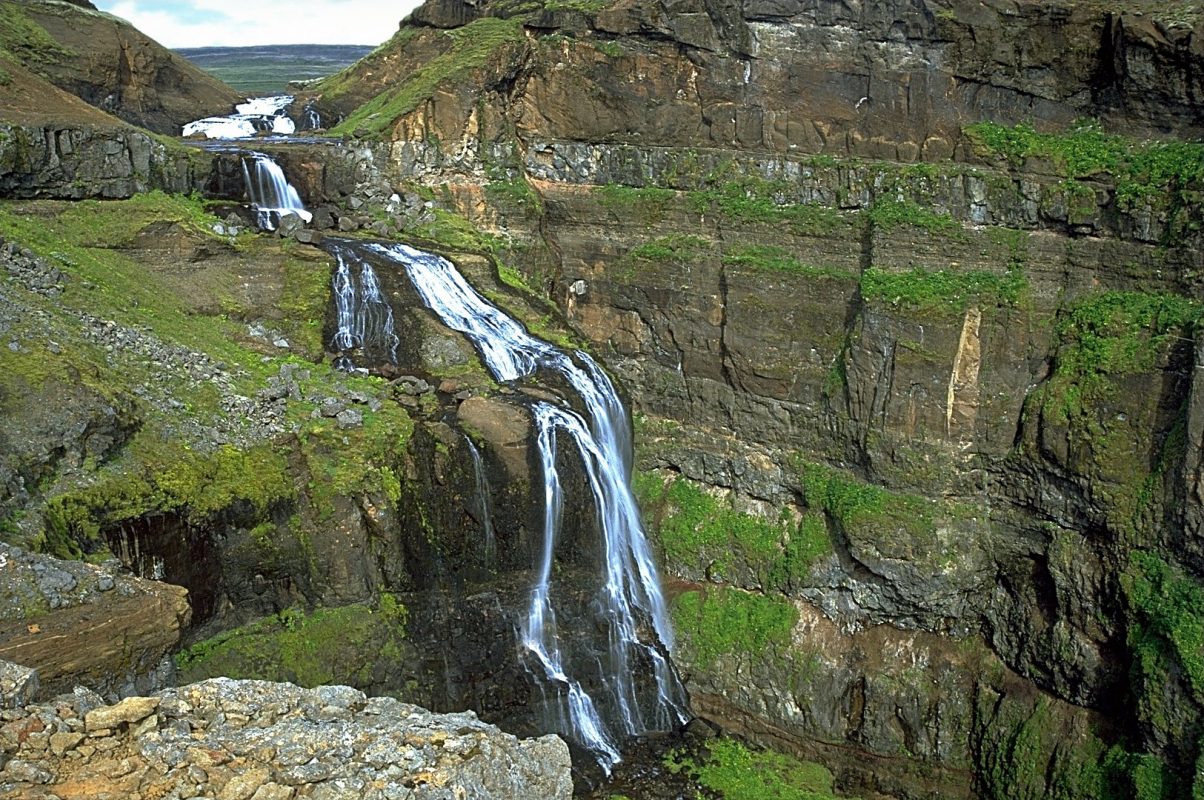 The waterfall's name is steeped in legend, as it is said that it is named after an old Icelandic folklore about a man who was turned into a whale by an elf woman after betraying her. In a rage, the whale sank a boat in the Hvalfjordur fjord, and two sons of an old priest drowned. When the old priest learned of this, he managed to lure the whale up Botnsa river until he crashed into the canyon where Glymur waterfall is located. The crash created a loud boom and caused an earthquake in the region, and that's how it got its name, which means a "loud, echoing rumble." The legend adds an extra layer of intrigue to the already stunning waterfall, making it a must-see destination on your next trip to Iceland. The combination of its natural beauty, interesting history, and legend make Glymur waterfall a truly unique experience that you don't want to miss. With its height, location and the surrounding natural beauty, Glymur waterfall is a perfect place for photography enthusiasts, nature lovers and anyone who wants to explore Iceland's natural wonders.
Location
Frequently Asked Questions
How long does Glymur Waterfall hike take?
The hike to Glymur Waterfall takes approximately one and a half to two hours. The hike is challenging and includes some tricky spots, so it is important to come prepared and pay attention to the trail. The hike is worth it as the end reward is a spectacular view of the waterfall and the surrounding area.
How hard is the hike to Glymur Waterfall?
The hike to Glymur waterfall is considered a moderately challenging route. It's a relatively long hike with some tricky spots, so hikers should come prepared with proper footwear and equipment.
Is Glymur hike worth it?
The trail leading to the beautiful waterfall presents various challenges but the breathtaking views from the top make it a worthwhile experience.
How high is Glymur waterfall?
Glymur waterfall stands at a height of 198 meters (650 feet) and is the second-tallest waterfall in Iceland.