Kirkjufell, a majestic peak rising to 463 meters or 1519 feet above sea level on the Snæfellsnes peninsula in Western Iceland, towers over the quaint fishing village of Grundarfjörður. Known as the most photographed mountain in Iceland, it is considered among the top 10 most beautiful mountains in the world. The mountain has also gained recognition as the "Arrow Head Mountain" in the hit series Game of Thrones.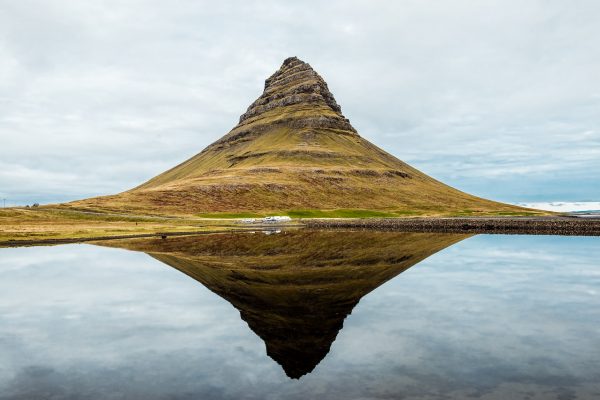 As you journey through the Snaefellsnes Peninsula on route 54, the striking Kirkjufell mountain comes into view. Its almost perfectly cylindrical shape is connected to the peninsula by a small strip of land on its south side. From the land, you can admire the mountain from three directions, except from the north as it faces the sea. One way to see this side of the mountain is by kayaking under it, a two-hour mesmerizing experience alongside one of Iceland's most majestic peaks.
Kirkjufell's formation is the result of millions of years of glacial erosion, which took place during the last phase of the Ice Age in Iceland. The mountain's steep slopes and visible layers of rock are a result of a unique phenomenon in Iceland known as "nunatak", a Greenlandic Inuit word that refers to a peak that protrudes out of glaciers but is not covered by ice, also known as a "glacial island."
Kirkjufell is a unique mountain situated between two glaciers that have shaped its form over time. Its layers are the result of numerous volcanic eruptions. Its distinctive shape even inspired early Danish sailors to give it the affectionate nickname "Sukkertoppen" meaning "the Sugar Top" in English, due to its striking appearance.
How to get to Kirkjufell
A trip from Reykjavik to Kirkjufell is easily doable and takes about 2 and a half hours, making it a great day trip from the capital. To get there, take Road 1 and head north, passing through the undersea tunnel. Continue on Road 1 until you reach Borgarnes, and take Road 54 at the roundabout on the outskirts of town. Stay on this road until you reach Grundarfjörður. You won't be able to miss the mountain when you get there!
Kirkjufellsfoss Waterfall
Kirkjufellsfoss waterfall is a picturesque waterfall that streams modestly into the ocean from a cove or lagoon. It has a drop of 16.4 meters (54 feet) in several divided spouts over a rocky hill, creating an idyllic rural scenery.
As you drive from Grundarfjörður towards Kirkjufell mountain, it won't take long to spot the stunning Kirkjufellsfoss waterfall. From a distance, the waterfall appears as one single stream, but upon closer inspection, there are actually three falls, all running in the same river under the same name. During the summer months, it's not uncommon to see local kids, teens, and even adults jumping into the waterfall. However, it's not safe to do so during winter time.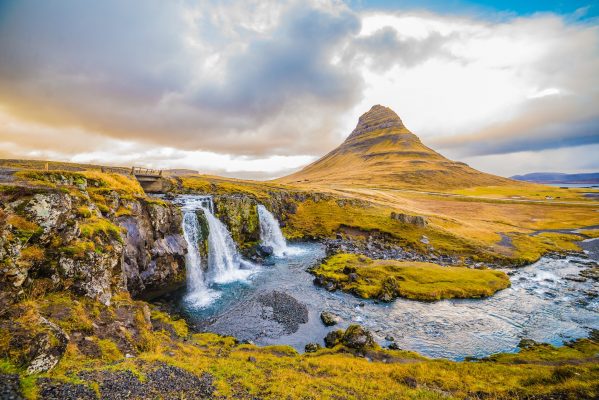 Location
Frequently asked questions
How much time to spend at Kirkjufell?
Kirkjufell is a 463-meter high peak towering above the sea, shaped by erosion during the Ice Age. Unless you plan to wait for the best lighting or sunset, the visit itself won't take too long; plan for about thirty minutes for the visit.
How long does it take to climb Kirkjufell?
For those who are looking for a more adventurous experience, it is possible to climb Kirkjufell mountain. The hike to the top takes approximately 1 hour and 30 minutes.
Can you walk around Kirkjufell?
When visiting Kirkjufell, it is highly recommended to hire a local guide for those interested in climbing the mountain. For those who prefer hiking, there is also a hiking trail that takes about three to four hours to complete around the mountain.