The black sand beach or Reynisfjara is located on the southern coast of Iceland, is one of the country's most famous black sand beaches. It can be found just before Vik, when driving from Reykjavik. Reynisfjara is known for its unique geology, including the black sand beaches, basalt columns, and a series of rock formations that are significant to local folklore. It's a must-see destination for visitors interested in Iceland's natural beauty and cultural heritage.
According to local legends, the basalt columns at Reynisfjara, known as Reynisdrangar, are actually two Icelandic trolls who were attempting to drag a ship from the sea onto land. However, they were unable to complete the task before daylight broke, resulting in them being turned into stone. Whether or not you believe the stories, it's a unique and interesting natural formation that can be attributed to Iceland. Visitors can appreciate the beauty of the black sand beach and basalt columns while also learning about local folklore.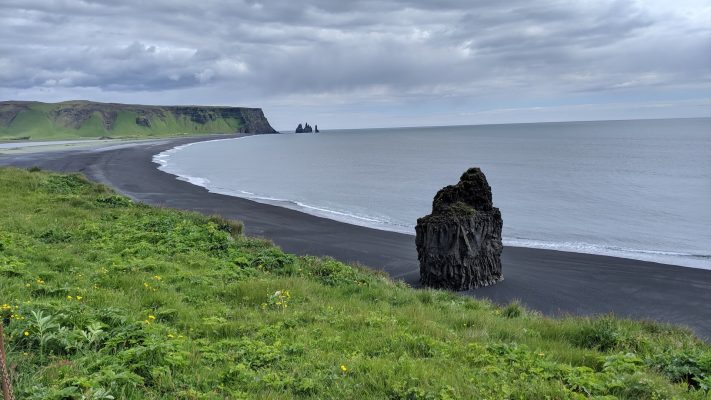 How to get to Reynisfjara
Reynisfjara, the famous black sand beach in Iceland, is easy to locate thanks to the clear signage from Route 1. Simply take the turn marked Route 215 and you'll be there in 10 minutes. If you're coming from Reykjavik, Reynisfjara is located just before the village of Vik, making it a perfect pit-stop on a road trip from Reykjavik to Jökulsárlón. The beach is situated in between the east and west coast, roughly 2.5 hours away from each location.
Safety at Reynisfjara
When visiting Reynisfjara, it's important to take safety precautions. Make sure to read the safety signs thoroughly and follow their advice. Keep a safe distance from the ocean to avoid getting caught by a wave. If you have children with you, it's important to keep a close eye on them. Be aware of the tide, as it can get you trapped in the cave or on the East-most part of the beach. You can check the tide chart for Vík before visiting. Also, stay at a safe distance from the cliffs to avoid rockfalls. Remember to always be aware of your surroundings and take necessary precautions for your safety.
Restaurant
Reynisfjara offers a small café called Black Beach Restaurant where you can grab a bite and a drink, but the menu is limited. There's also a public bathroom onsite for visitors' convenience.
Reynisfjara beach parking
The parking at Reynisfjara is free, but finding a spot can be challenging as the lot often fills up during the day. It's best to arrive early or plan to visit in the off-peak hours.
Location
Frequently asked questions
How was Reynisfjara beach formed?
Reynisfjara beach is a product of volcanic activity in the area over the past few centuries. When the nearby volcano, Katla, erupted, the lava flowed into the North Atlantic Ocean. As the lava comes in contact with the sea, it cools down and hardens, creating the black sand beach of Reynisfjara. The beach is a unique combination of volcanic and coastal landscapes.
How much time do you need at Reynisfjara beach?
Set aside 30 minutes to 1 hour for Reynisfjara black sand beach. This time frame allows for a leisurely walk and photo opportunities. Keep in mind that the beach can be quite chilly and windy, so it is not suitable for prolonged sunbathing.
Can I swim in Reynisfjara beach?
Swimming is not recommended at Reynisfjara due to the dangerous tides and conditions. It's a picturesque spot for a walk, however it's important to note that the beach has a history of being dangerous and has been the site of several tragic accidents in recent years. It's best to keep a safe distance from the water and enjoy the beach from a safe distance.